Opinion: A writer writes, a marketer reports? – The lazy day approach to not knowing how your role is integrated with the full marketing mix
How many digital marketing skills do you think you have?
Do you think you're employable if you only have one specialized marketing skill?
You're really good at it, you get results and you know that channel or tactic like the back of your hand. But you don't know how it integrates with what your colleagues are working on, the bigger business goals, how it contributes or improves the full customer lifecycle, or even how to do the most basic reporting.
Every marketer should be able to do the most basic of reporting on their work. You don't need to report on all business finances, all channels of marketing and map these together to produce a beautifully formatted customer lifecycle map with every touchpoint and metric of performance on there, but you should be able to tell your colleagues or manager how a piece of content you wrote a month ago is performing.
If you can't, or don't want to, how do you expect them to understand your value to the role/company? If you can't prove your work is successful and contributing to the most basic of marketing and business goals, they'll need to find that out and that's taking up their valuable time.
---
Digital marketing skills assessment
Benchmark your skills against your current company's level of priority with our free Personalized Learning Plan skills assessment.
Get recommendations on where to improve to keep your skills up-to-date and competitive.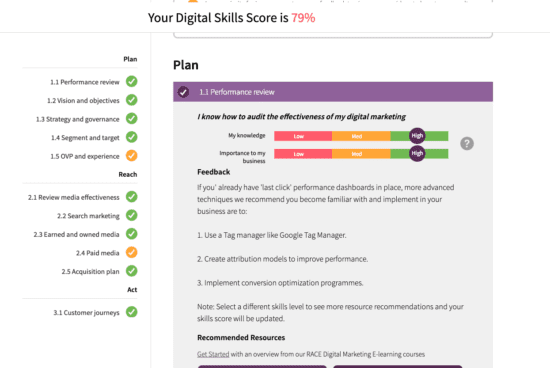 ---
Why does this matter? Well, I saw an interesting opinion online a few days ago:
"These job specs asking for a "strong writer with a journalistic approach who is data-driven and analytical with solid experience in Google Analytics"… Or the eye-rolling "How do you measure the success of your written content?" question. A writer writes; a digital marketeer reports back on how many people read it or purchased something after reading it. It's like asking your gardener to fit a boiler, Picasso to do your company accounts, or Lionel Messi to play at centre-back."
All marketers should have basic reporting skills
It might be unreasonable to seek an email marketing specialist with a deep set of technical SEO skills and the ability to code in .php, but asking your future employee to be able to report on their work is a basic skill. If you're not able to prove how successful your work is, how do you plan to prove how valuable you are to the business?
If you're a professional writer in marketing, whether a content writer, copywriter, SEO copywriter, or a blogger and not reporting on the content you have created you're not fully understanding its success. You're not understanding its impact. Therefore, you're also probably not improving. A dangerous place to be in an increasingly demanding industry.
Below is a marketing skills matrix produced by the IDM that maps skills that are important for career progression and the current skills gap within these techniques or tactics.
As shown, data analytics and reporting is an important skill but many companies suffer from a larger skills gap within this area.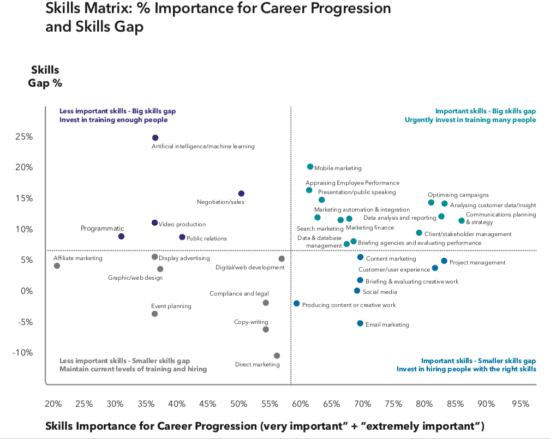 A marketing skills report from the DMI found that in the UK, "Analytics and Reporting is the significant skill gap, especially in the marketing/communications sector as 45% claimed their measurement skills suffered most."
The report goes on to explain that research, analytics and reporting are prominent skills gaps in most organizations. If you're not able to report on the basic metrics to understand if your copy/project/campaign etc. was successful how do you expect to improve and get better results next time round?
What about digital marketing specialists?
This is not to say that marketers can't be specialists, in fact having in-depth knowledge in one skill is vital in terms of bringing a team together that can optimize each channel of marketing. But having an understanding of other channels is essential in order to grasp the whole marketing strategy and know what you're working towards.
In a recent article, Dave Chaffey explained why it's important that companies still have a digital team/specialists, detailing ten roles that will help support the conversion funnel/customer journey. One is a Digital Analytics Exec:
"Working across all types of customer interactions an analytics specialist can set up reporting and analyze defects and opportunities to improve. They can also integrate with the business analytics or insights team."
Integration of team members is important, and although there might be a specialist who looks after reporting and measuring important KPIs, many places might not have this and you'll be expected to do this at a competent level. It's not unreasonable to see companies wanting a candidate with a range of key and specialist skills they can bring to the team to add value. Or, at least a willingness to learn them.
Being a "T-shaped" marketer"
Being T-shaped means that you have a broader understanding of all areas of marketing but specialize in one area. This ensures that you are able to see exactly what you are doing ties in with the rest of the team and how one thing might influence another that comes under someone else's remit.
Because so many companies are now expecting more from their applicants, they're looking for someone who will stand out. Someone who has the ability to cover when another person is ill, or on holiday, someone is willing to learn if they don't know.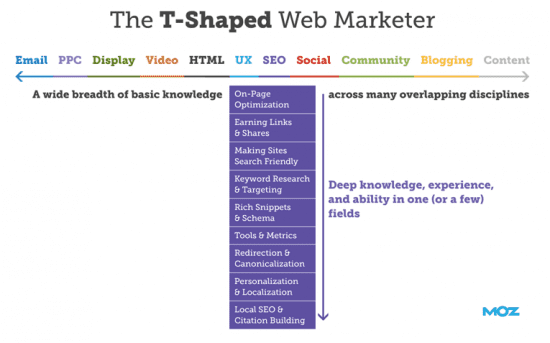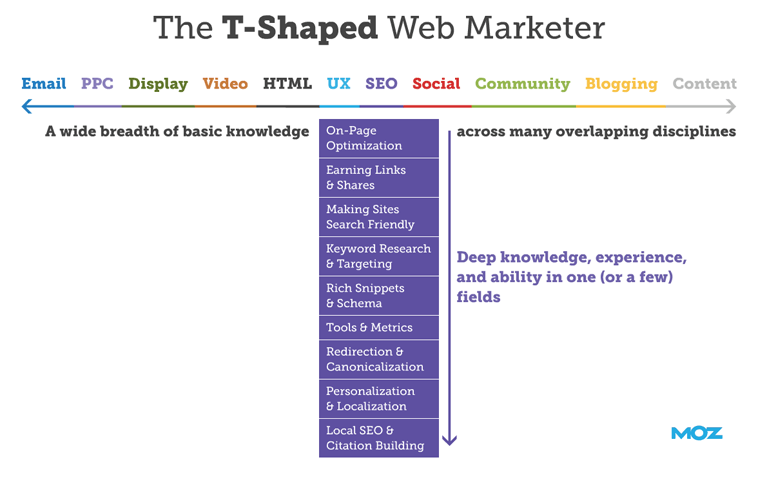 Interestingly in this graph from Moz, analytics and reporting don't seem to have their own "channel" or area of expertise. Every channel in the marketing mix needs to be audited, monitored and reported on. This means that it can be assumed that if you really are a specialist in a certain channel, you are able to report on that as part of your in-depth knowledge.
Having another colleague get YOUR data for YOU is lazy and is disruptive to the working environment and productivity. You should be working together, as a team, to understand success factors in your work.
If you can't be bothered to learn a new skill that will upskill your knowledge and improve your value to a company, then you'll be waiting for a new job opportunity for a long time.
If you can only write but can't do basic reporting to show how your content performed, how are you going to stand out from the rest of hundreds of applicants? Being the school head boy/girl won't cut it for this application.