Programmatic advertising to grow in 2020, Google faces new lawsuit, Aldi has top Christmas ad and TV ads are "least risky" option
New forecasts have suggested that programmatic advertising could reach record investment this year, with its popularity continuing in 2020.
Google is back in court with a company suing for damages due to the tech giant's anti-competition rules.
UK consumers have named Aldi's Kevin the Carrot as the top Christmas advert this year.
A new study has revealed that TV could offer the least amount of risk when it comes to advertising channels.
We've got all the details for each of these stories with this week's news roundup.
---
Programmatic advertising expected to grow in 2020
Despite rising concerns over digital ad fraud and brand safety, it seems as though programmatic ad spend is going to continue to increase in 2020.
The latest forecast from Zenith shows that around 69% of media will be traded programmatically by the time 2020 rolls around. On top of this, it is expected that programmatic ad spend will exceed $100 billion in 2019, which will be the first time this has happened. This equates to a 65% share of the market.
2020 is then expected to see the trend continue, with programmatic ad spend coming to $147 billion by 2021. At this point, it is expected that 72% of all digital media will be programmatic.
However, this strong growth is being slowed by issues with the supply chain and concerns about privacy. This will see programmatic advertising growth slow from 35% in 2018 to 16% in 2021.
Zenith's head or forecasting, Jonathan Barnard said: Although programmatic ad spend continues to grow at double-digit rates, it is being hindered as the industry struggles with privacy and supply-chain challenges. Once these challenges have been addressed, programmatic marketing has the potential to accelerate again during the next decade."
In order to remain competitive as programmatic starts to be the go-to option for the majority of brands, as well as steer clear of privacy rules, brans need to start using first-party data and customer data platforms to develop new targeting options.
---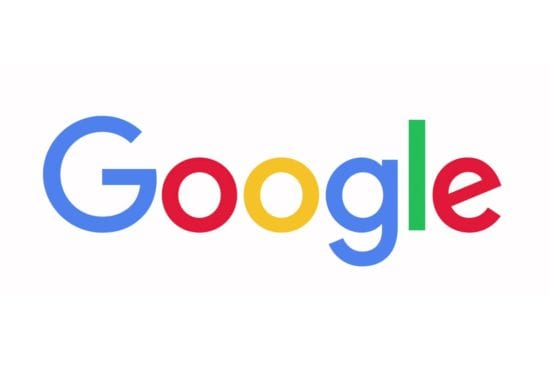 Google faces anti-competition lawsuit
Google is facing another lawsuit, this time as a result of the tech giant's 'anti-competitive' practices. The advertising technology company Inform is suing Google after it alleges that it was forced to withdraw from the digital advertising market due to Google's practices.
The lawsuit says that Google has misused its monopoly of search and mobile industries. This in turn has undermined competition in the digital advertising marketing, which is why the company is seeking damages.
The company wrote in its lawsuit: "The totality of Google's illegal and anti-competitive conduct across multiple, inter-related markets demonstrates a frightening march to online and digital dominance."
Inform competes with Google when it comes to online video advertising. Between 2014 and 2016, the company generated more than $100 million in revenue from its online advertising services. However, it has seen its income dramatically decline and blames Google's anti-competition policies. As a result, the company was sold to Bright Mountain Media.
---
Aldi's Christmas ad named UK favourite
The Christmas advert competition is stepping up this year with a large number of brands seeking to create the most emotional and memorable ad. So far, it looks as though Aldi is sitting pretty in the top spot, with findings from Kantar suggesting that it 2019's most powerful Christmas ad.
Kantar's survey of UK viewers saw people asked to rate the ads across seven factors that make them effective. The results revealed that the discount retailer's Kevin the Carrot offering was seen as the most 'different' and 'emotional' out of this year's ads. It also performed well in terms of being 'enjoyable' and 'attention-grabbing' while also helping to create love for the Aldi brand.
John Lewis' latest offering featuring Excitable Edgar has also performed reasonably well, being named the UK's most enjoyable advert. However, the brand that generated the most 'love' is Walkers, with its advert featuring songstress Mariah Carey.
Looking at branding, Tesco was seen as the strongest advert with its Delivering Christmas advert.
Kantar UK's head of creative excellence, Lynne Deason, said: "To create advertising that resonates with consumers, brans must understand what we're thinking and feeling. Many are making a very deliberate effort to lift our spirits this year.
"They're earning attention by taking us on a dramatic emotional journey, using entertaiing, cinematic stories that bring a magical sparkle and – hopefully – leave us feeling good. This year, lots joy will mean lost sales."
---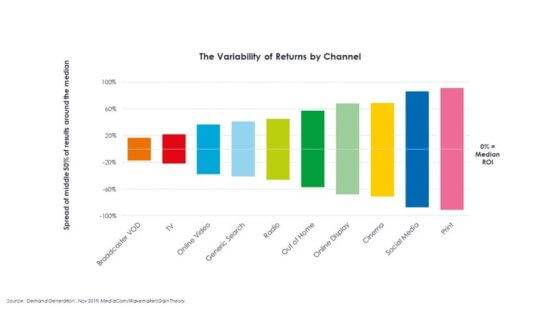 TV advertising "least risky" option
As new technologies emerge, so too do new channels for marketing and advertising. However, despite the rise of digital, it seems that TV could still be one of the best advertising options.
According to new research from Gain Theory, MediaCom and Wavemaker on behalf of Thinkbox, TV is the "least risky" form of advertising. The research found that it consistently delivers ROI when compared to other media channels.
The research found that linear TV advertising and broadcast video-on-demand (BVoD) only deliver a 201% variance compared with the median return of all channels. BVoD was found to perform slightly better than linear TV, but the middle 50% of results for both are within 20% of the median ROI.
When looking at online video, this variance is closer to 40% with the variance getting close to 90% for print.
TV was also found to boost all other advertising channels y 2015, displaying a 'multiplier effect'. It was found to be the only media that does this. The research found that TV advertising can improve the performance of radio, print, online display and social media by 31%, meaning it can improve ROI across your advertising mix.
However, when looking at short-term results, search delivers the best media-driven sales results, with an average of 29% during the first two weeks of a campaign being launched. Tv came in second on 23% with print coming in third at just 10%.
The research is based on the economic analysis of £1.4 billion worth of media spend over three years by 50 brands across 10 different forms of advertising.