Take a look at five social commerce trends for 2020 that could help improve your social commerce strategy for the year ahead
Social media continues to offer opportunities for brands to connect with consumers in new and interesting ways, across a wide variety of platforms.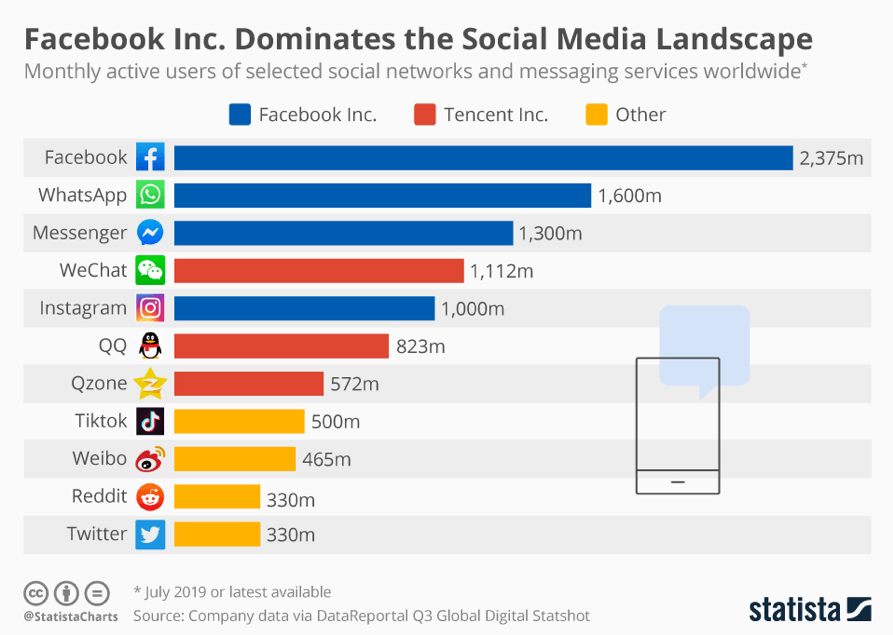 The number of people online, on mobile and on social has increased year-on-year. According to the Global Digital Report 2019:
The number of internet users worldwide in 2019 is 4.4 billion, up 9.1% year-on-year.
The number of social media users worldwide in 2019 is 3.5 billion, up 9% year-on-year.
The number of mobile phone users in 2019 is 5.1 billion, up 2% year-on-year.
It's also worth noting that whilst the major platforms (Facebook, Instagram, Twitter) still dominate, there has been a rise in alternative platforms. As Joanna Carter highlights in her social media trends analysis from October:
"While Twitter has seen growth so far this year, its active user numbers have declined from its all-time 2017 high. Similarly, Facebook has seen a huge drop in users – especially younger users – over the last two years, with younger audiences opting to spend time on other platforms. Combined with the increasing pay-to-play format of social media channels, this means that brands aren't seeing the results on these platforms that they previously did."

The continuing rise of social commerce
Earlier this year, I blogged about the key trends in social commerce and explained that brands who are optimizing their digital experiences across multiple channels, such as social media and e-commerce, are establishing a strong competitive advantage. This is still the case, with 55% of online shoppers making a purchase through a social media channel, such as Facebook, Instagram or Pinterest in 2018.
There are clear signs that social commerce will continue to grow. North American e-commerce agency Absolunet has identified the following key stats:
87% of e-commerce shoppers believe social media helps them make a shopping decision.
1 in 4 business owners are selling through Facebook.
40% of merchants use social media to generate sales.
30% of consumers say they would make purchases directly through social media platforms.
In my post from March, I highlighted three broad trends in social commerce:
Mobile – Social media sites are now predominantly mobile-first, and users expect an experience that enables them to browse and buy on their mobile devices.
Visual – Brands looking to make an impact on social media must embrace the  'instagrammability' trend and become visually driven, relatable and authentic.
Trust – Brands looking to move into social commerce should look at ways to build trust and create an online experience that demonstrates a clear value in browsing and buying online.
Whilst these trends are still valid, I wanted to look more closely and five specific areas of social commerce that brands should pay attention to and consider as part of their marketing plans in 2020.
Trend 1: Rise in built-in e-commerce projects
As social commerce continues to build momentum, some of the more established platforms are looking at ways to enhance their e-commerce capabilities. Instagram and Snapchat are just two examples of platforms working on built-in e-commerce projects, hoping to keep pace with upstart social commerce apps.
In March, Instagram launched a new e-commerce checkout feature to tackle the on-going challenge of delivering an end-to-end in-app e-commerce experience for users. Instagram Checkout allows Instagram users to complete product purchases without ever having to leave the app, and in the process save purchasing information for future payments.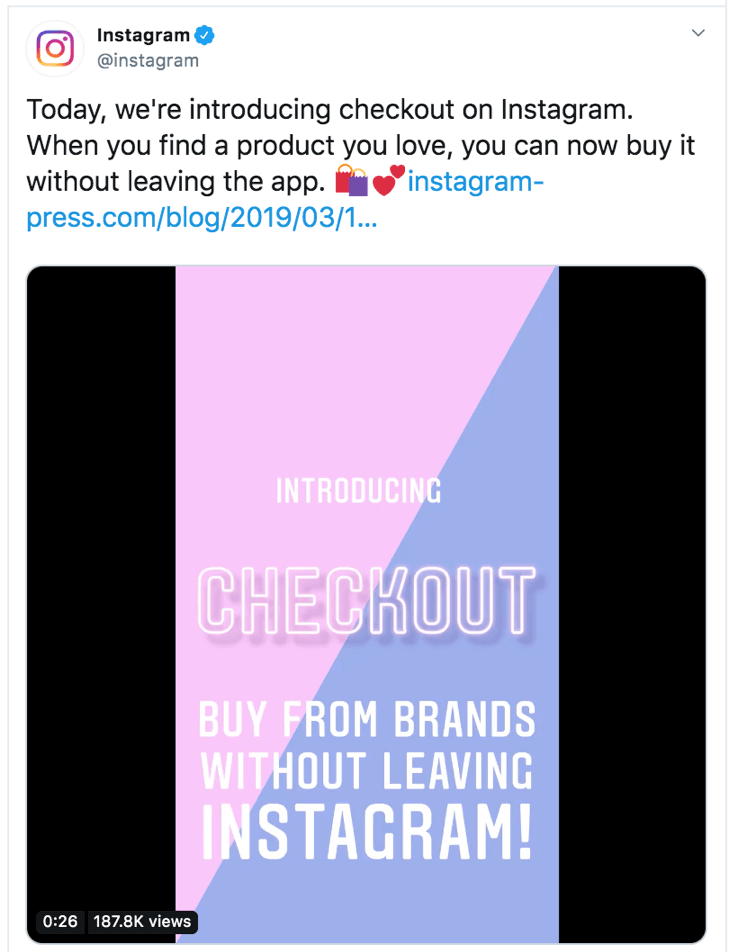 Trend 2: Social commerce will expand beyond established channels
As social media continues to evolve, so will the number and range of platforms with which people will be connected. Whilst new entrants may not have advanced e-commerce platforms like those from Instagram and Snapchat referenced above, consumers will still expect to be able to view and buy products within the spaces in which they're spending their time.
The short-form video app TikTok has started to experiment with social commerce. According to TechCrunch, TikTok has started to allow some users to add links to e-commerce sites (or any other destination) to their profile biography as well as offer creators the ability to easily send their viewers to shopping websites.
This move from TikTok is seen as particularly significant because it will give brands an opportunity to reach the younger Gen Z audience which makes up much of the app's 500 million global users.
Trend 3: Influencer marketing will continue to persuade
Businesses looking to excel in social commerce should look to leverage new and/or existing relationships with influencers to enhance the reach, association, and affinity with their brands.
The challenge of standing out in social channels is a constant battle for consumers' attention and brands need to find new and different ways to generate awareness. According to GlobalWebIndex, nearly a fifth of internet users say they use social media to follow celebrities, climbing to a quarter of Gen Zers, where they are most effective.
The popularity of influencers means that 14% of digital consumers find out about new brands via celebrity endorsements, and another 14% through celebrity blog posts or product reviews, ranking above alternative sources of discovery such as cinema, radio, and newspapers.
Trend 4: Leverage richer visual and video-based content
The rise in social commerce has been driven in part by younger consumers (Generation Z and Millennials in particular) looking for new, interesting and convenient ways to browse and shop online.
According to eMarketer, more than 55% of Gen Z US internet users – who do half of their fashion shopping online – said their most recent fashion purchases were inspired by social media browsing. And nearly as many millennials said the same: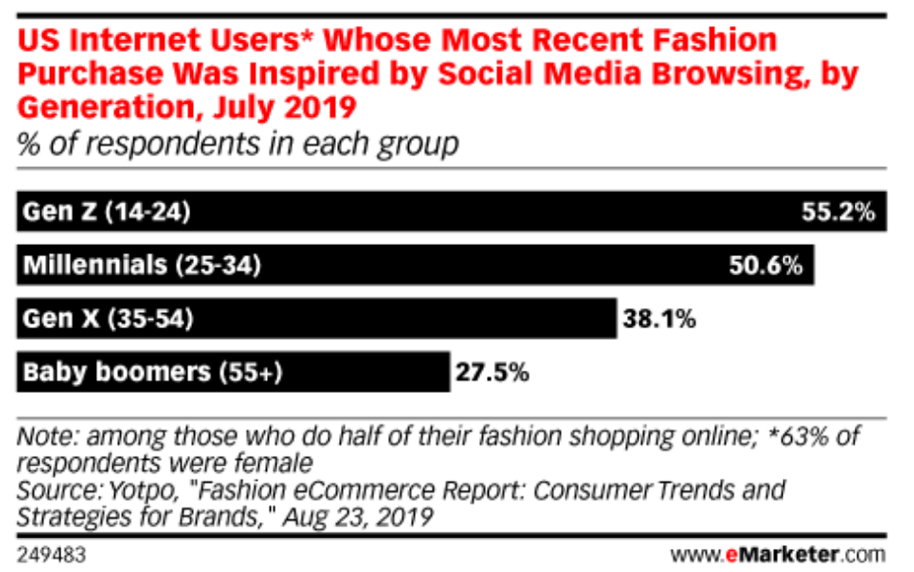 And these younger demographics are also driving demand for richer, more visual content, including video. According to IAB's 2018 Video Ad Spend study, All market sectors have seen an increase in investment in digital and mobile video advertising. Since 2016, overall video ad spend has increased by 53% and is likely to continue rising.
Trend 5: Growth in private messaging services
In 2019, eMarketer expects 2.52 billion people worldwide, or 87.1% of smartphone users, will use a mobile messaging app at least once per month: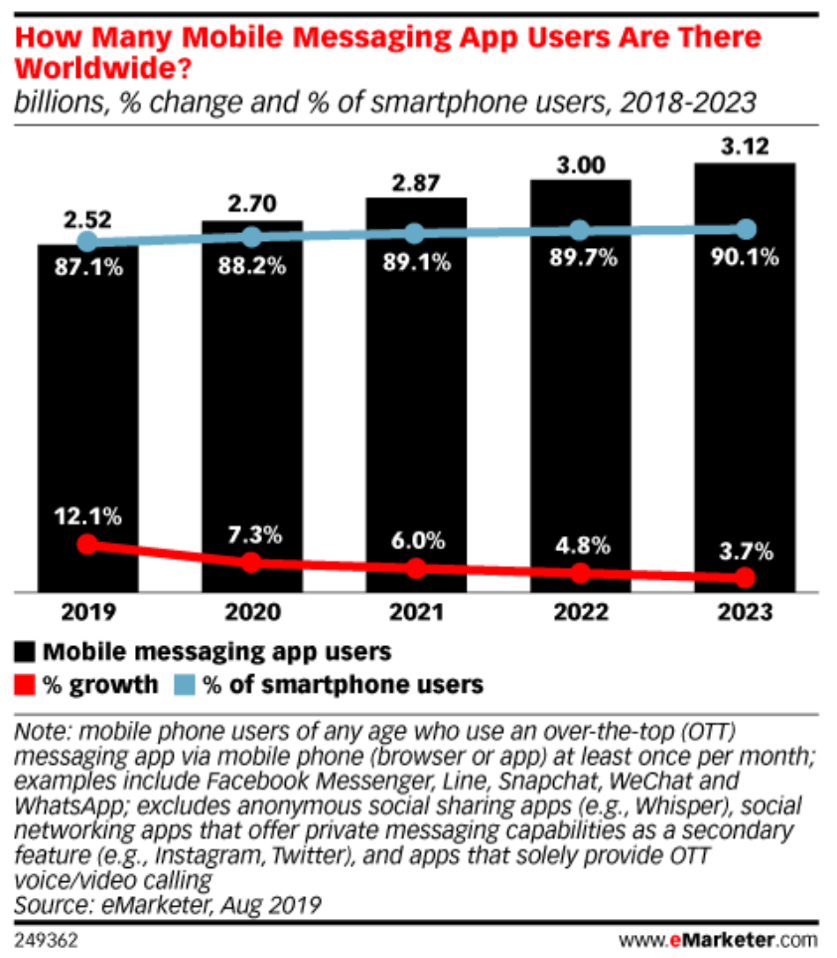 This growth in the use of messaging apps, which includes Snapchat, WhatsApp and Facebook Messenger (the latter both owned by Facebook), may further influence the way consumers engage with brands in a mobile environment.
The overall trend towards messaging apps and evolving business tools (such as Messenger Lead Ads Templates and Business Catalog on Facebook Messenger and WhatsApp respectively) indicate that this may be a key area of focus in 2020. Indeed, WhatsApp's Business Catalog is an interesting development as this will not only help users connect with relevant businesses but also enable them to view what's available from businesses without having to leave the platform.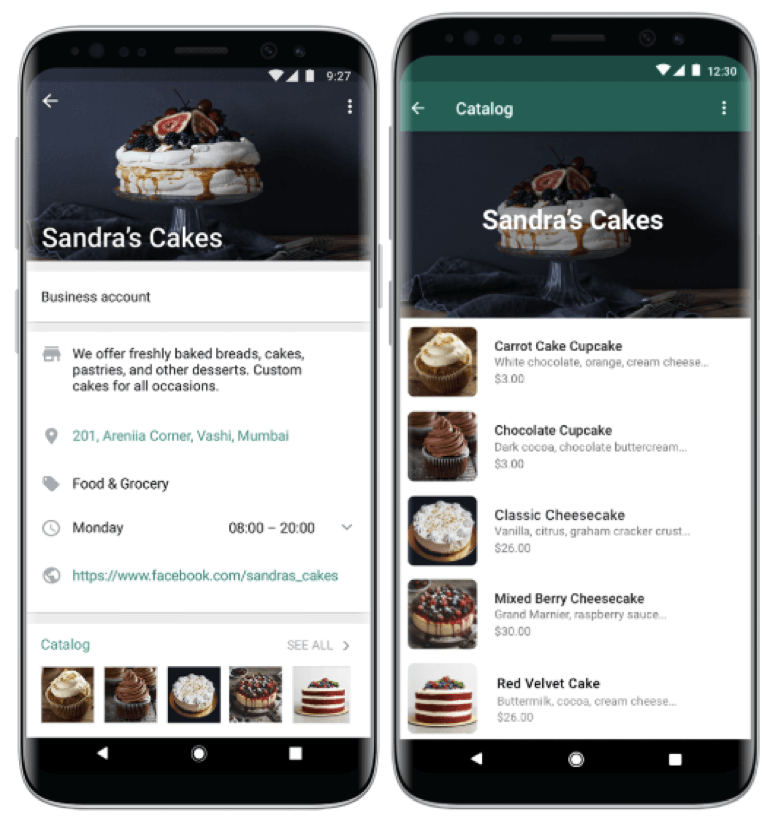 Conclusion
As social media continues to grow and evolve, social commerce will follow, giving consumers more choices and ways to browse and buy within different social channels. Whilst the major platforms have optimized their social commerce offerings, new entrants, such as TikTok, are starting to test and experiment, reaching a growing number of younger consumers moving away from the current leaders.
Brands looking to explore social commerce over the next 12 months must look to test and learn using different platforms, but also remember to look beyond simply including "buy" buttons. According to GlobalWebIndex, shoppers are increasingly making use of a multitude of channels when buying online and therefore social channels must be used in conjunction with – and complementary to – other commerce channels to provide a consistent consumer experience at every stage of the purchase journey.
If you want to keep up with all the updates within the industry for the new year, take a look at our breakdown of the big digital marketing trends for 2020.