Benchmarking your performance allows you to understand how well you're actually performing, compared to real life competitors
Measuring digital success is no easy feat; even if you've reached your digital marketing goals and KPIs, that doesn't necessarily mean it's good enough. After all, what if your competitors are all outperforming you? What if the industry is growing at a faster rate than your business is?
That's why it's extremely important that you benchmark your business against your competitors: it allows you to understand how well you're actually performing, compared to real life competitors.
In this blog post, discover useful tips and tools for benchmarking success in the digital landscape: from social media to content marketing and to SEO.
How to pick competitors to benchmark against
The first step in this process is to pick the right competitors to benchmark against; that said, you do have a few options here depending on your overall goals.
The best place to start though is with your closest competitors – competitors that are roughly the same size business as you and that are bringing in similar amounts of business as you do.
This will not only give you a much better idea of how you're performing compared to them (including over time, as you keep comparing your KPIs against them over longer periods of time), but it will also show you what opportunities you have to outperform them.
That said, you can also benchmark yourself against some of your bigger competitors if you have grand plans of reaching their success. Their numbers will be dispiritingly larger than yours – but that doesn't mean you can't still learn from these top brands by understanding which strategies are helping them get these results.
To find your competitors, there are multiple options: you can simply use good old Google to look up local businesses like yours and further investigate them, you can use a social listening tool to set up listening searches and discover any relevant competitors and you can use various other tools for spying on your competitors.
Once, you've found the competitors you want to benchmark against, pull out your digital marketing KPIs and let's get started:
Benchmarking content performance
Who has the better content?
Or better said, whose content performs better?
There's so much to learn when comparing content success – not just who wins at content marketing between you and your competitors, but highly useful information like:
Which types of content perform best
Which topics you should write about
How long your content should be
Which headlines perform best
What types of content attract the most social shares
This is where Buzzsumo comes in. As a content research tool, it lets you discover content but it also lets you look up content from specific sources.
For example, let's say you have an organic food store in central New York City; in that case, you'd want to know what kind of content your competitors are creating and how well it's performing, so you might look up something like the Whole Foods website: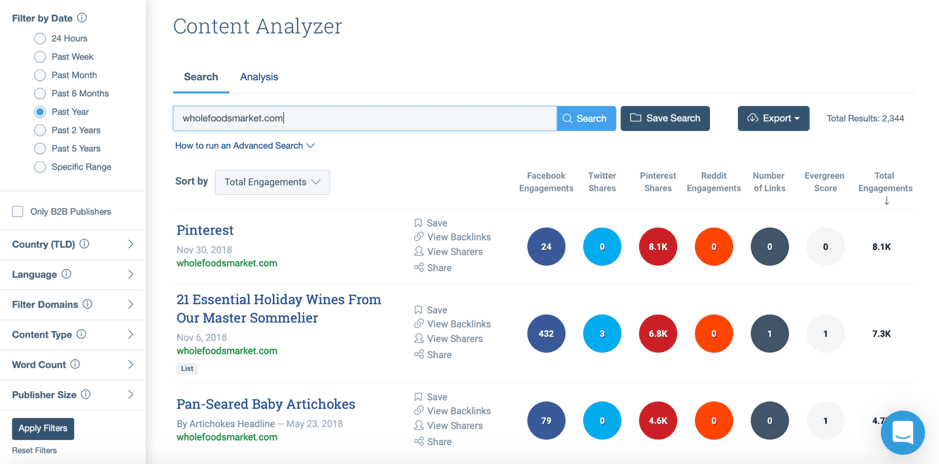 Now, you can carefully go over and compare your stats against them: shares on specific social networks, total engagement and even who linked back to them and who shared their content (as there might be some great opportunities there as well).
Benchmarking social media success
Social media is a tough nut to crack. The competition is fierce, with everyone – businesses, influencers and even regular people – fighting to get their audience's attention.
That's why competitive benchmarking is very important when it comes to social media. It shows you how you stack up against your competitors, but most importantly, it helps you understand what truly works and what doesn't.
So while you might use metrics like likes, comments and so on to benchmark success, you should dig deeper and see which specific posts perform best, what influencers they're working with and other relevant information about your competitors' social media strategies, simply so you can find ways to improve your own social media strategy.
As for useful benchmarking tools, there are numerous options. If you want to quickly see engagement stats for any profiles, for example, you can use a number of tools:
Phlanx Engagement Calculator for Instagram: Simply enter the account you want to examine to see their engagement rate and average interactions per post (likes – for however long they're still around! – and comments).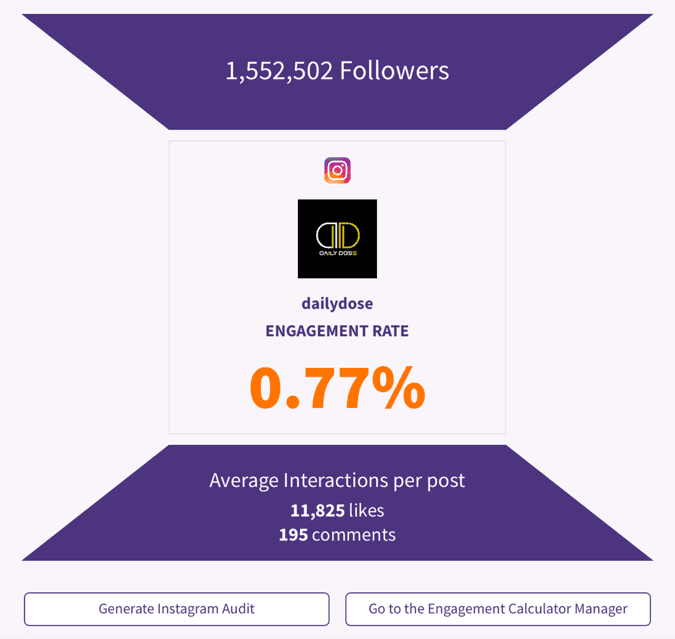 Facebook Pages to Watch: Facebook lets you track other Pages (along with yours) right in your Page's Facebook Insights. Just access your Insights, scroll down to the bottom of the page and add the pages you want to watch. It will allow you to see total pages likes (and how they evolved from the previous week), how many posts they published and their overall engagement. Plus, you can click to see their top performing posts and see at a glance what your numbers are like compared to them.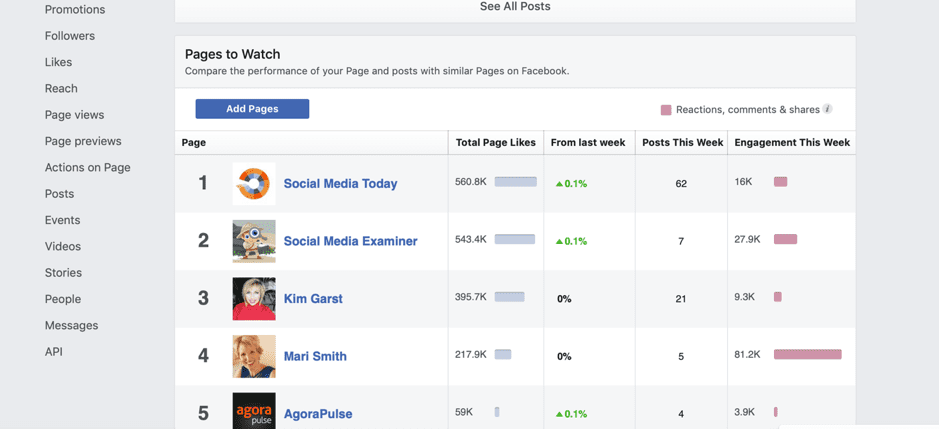 Agorapulse: This tool lets you create competitive benchmarks for Facebook Pages in the Reports section. Apart from that, it also offers a couple of free tools that you can try: a Facebook Page Barometer tool that lets you gain insights into your Page and compare your results to the almost 44,000 Pages that are already in Agorapulse's Barometer and a Twitter Report Card that lets compare your Twitter account to those of your competitors in terms of audience size, activity (posts, engagement) and overall quality of engagement.

Benchmarking website performance, ads and SEO
Another area where competitive benchmarking comes in very useful is search engine optimization, online ads and overall website performance.
This can help you:
Discover new keywords to target
Help you optimize your ads and your ad budget
Discover SEO link building opportunities
Monitor and understand your competitors' website performance compared to their marketing efforts
Luckily, there are quite a few good tools to help you with all this. One of the top solutions is SEMRush, which lets you monitor both your online performance, along with any competitor you want.
For example, some of the things you can do with SEMRush include:
Monitor display ads strategies of your competitors and set comparisons.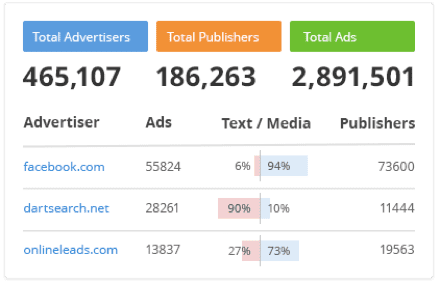 Monitor competitor website performance and SEO: ranking tracking, organic traffic and organic keywords, their backlinks and traffic analytics, among others.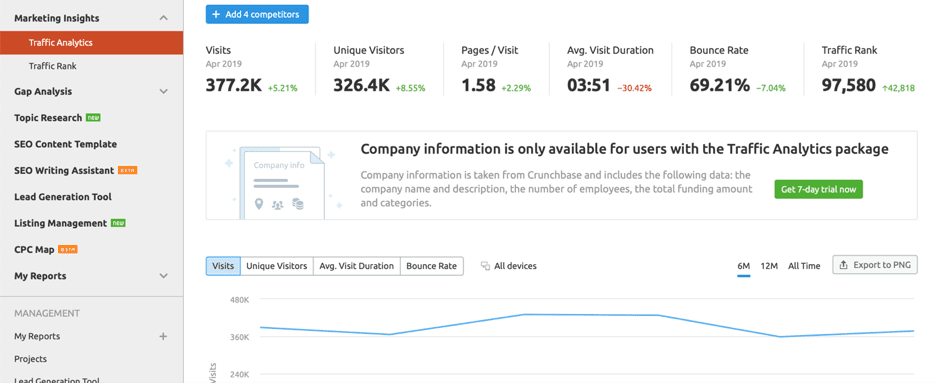 Compare up to five different competitor domains to discover keyword gaps (that you can then target).
Content research to help you identify better topics to create content.
Conclusion
Competitive benchmarking isn't just a way to evaluate your businesses' success, but also a great way to discover marketing opportunities and improve your current marketing strategies to generate better results – and hopefully, overcome your competitors as time goes on.
Ideally, you should create these competitive benchmark reports regularly to see how your results are evolving, compared to how your competitors' results are evolving. Plus, you should use them to continue to gain valuable insights into your audience and what actually works and what doesn't; from the content you create to the keywords you target and to the social media campaigns you start.