Chart of the Week: Pandemic hits high-ticket air travel and cruises, alongside small pleasures such as eating out, as marketers reassess what constitutes value for customers right now and how digital marketing can help
Charts from Market Insider paint a grim picture of life for marketers in the travel industry as airline and cruise numbers plummet
The biggest cruise names in the pandemic are, of course, Princess Cruises' The Diamond Princess Yokohama (with 700 passengers infected and eight deaths) and the Grand Princess (now in day 14 of quarantine in San Francisco).
Analysts at Goldman Sachs are comparing the pandemic to similar scale events such as the 2001 recession, the 2008 financial crisis, and, the Costa Concordia disaster of 2012 (another cruise ship disaster, where 33 passengers died off the coast of Italy).
"Averaging the moves made after such events, cruise prices dipped by 6.3% and took roughly three and a half years to recover"
It is testament to the industry that, despite these deviations, the customers keep coming back. As marketers, we can learn from this, and from the tricks of the trade which increase Customer Lifetime Value even amidst a turbulent macro-environment. So let's all keep our fingers crossed that cruise-lovers will once again be booking their next adventure within the next three and a half years.
Global airline stats tell a tale of decreasing demand as customers heed advised/enforced travel restrictions. This manifested first in China, followed by Italy, and now the UK is looking set to follow.
However, there is good news too. As we can see, demand in China is now increasing. There is no reason why this trend can't continue elsewhere as other countries come out of the other side of travel restrictions. When the market does pick up, that is when, as marketers, we can best take advantage of growth.
Opentable reports restaurant seated dinners on Monday 23 March 2020 down 99% year-on-year globally.
The data has been compiled from reports of Opentable's 60,000 strong restaurant community. Alongside the hard facts, Opentable has published recommendations for customers to support their favourite restaurants, including buying gift cards and ordering to takeaway.

Independent restaurants are in a particularly vulnerable position at this time. In the US, for a limited time, these businesses are being supported by takeaway delivery giant UberEats, which has waived its delivery fees. This is a fascinating example of exploiting all 4 Ps of marketing for ultimate customer value in the modern world.

Coronvirus-affected trade show marketers' budget plans revealed in a poll of over 200 B2B marketers
The results of the poll, featured on Marketing Charts, demonstrates industrial marketers' attitudes to reinvesting budget from one of the worst-affected B2B channels – trade shows.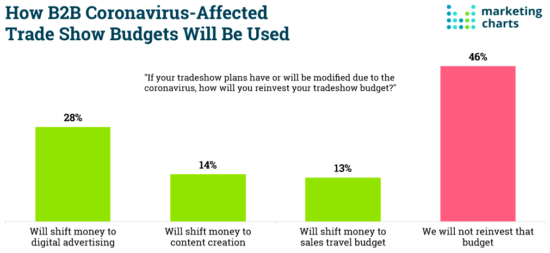 Event marketers have suffered heartbreak over the last month. Tighter and tighter regulations coming into play have meant the majority of trade shows have been either voluntarily or legally cancelled.
However, with 28% of marketers polled by IEE GlobalSpec reinvesting their trade show budget into digital advertising, not all is lost.
In contrast to businesses choosing not to reinvest, an agile, tactical shift in communication channels will keep the opportunity open at the top of the funnel for these businesses to continue connecting with customers and pursuing sales.
Marketers choosing to reinvest in digital can make use of our digital marketing strategy guide. All these changes in marketing budgets mean, for marketers who can, now is the time define your digital opportunity, set your strategy and take action to implement your plan.
Introduction: Convincing others your need to invest more in digital marketing.
1. How to structure your plan: Using the SOSTAC® and RACE planning frameworks.
2. Review situation and performance: Identify priorities to improve by reviewing your current capabilities and results compared to competitors.
3. Define your opportunity: Forecast your goals for leads and sales, set SMART objectives and define digital dashboards to check you are on track.
4. Targeting: Create more customer-centred communications by defining your audience personas and selecting the best techniques and martech to reach them online.
5. Proposition: Improve your lifecycle communications for a more persuasive, compelling brand and define your online value proposition (OVP) and marketing tech.
6. Digital customer acquisition plan: Select your priorities and set the budget for investment in paid, owned and earned media to increase online leads and sales.
7. Digital customer retention plan: Improving customer communications via on-boarding, email marketing and social media.
Final thoughts
Writing this blog today has made me even more aware of how much is changing, and how much is still unknown. That's why it's so important that, as marketers, we all brush up on our research, share our knowledge, and think creatively. It's not all doom and gloom, as these charts have shown, so we can all learn so much from watching agile marketers exceeding expectations across a range of industries. What does that mean for your business?
Alongside Dave's recession-busting marketing action plan, we will continue to use the blog to keep readers up to date on the latest news and what that means to marketers – definitely worth a read during your commute time!