The manufacturing industry is experiencing rapid change. Catch up on the latest trends and innovations in this sector plus what we've learned about how to market a manufacturing company in 2021
Around the world, manufacturing marketers and managers are rapidly adapting and amending their marketing strategies to win more customers. Marketing for manufacturing is a unique skill, requiring a strong reliance on physical products in a digital world. That's why so many manufacturing businesses right now are relying on omnichannel marketing to acquire and retain high-value customers. We've got marketing strategies and tactics to help boost your profits. But first, let's take a deeper look into exactly how to market a manufacturing company.
How to market a manufacturing company with the RACE Framework
Regardless of your current levels of digital maturity, the RACE Framework is a structure you can use to take stock of your current manufacturing marketing efforts and find out how to market your manufacturing company more effectively.
Through the RACE Framework, you will build an agile, strategic approach to optimizing your manufacturing business' marketing funnel. As shown below, our step-by-step process allows you to track your marketing activities across your omnichannel customer touchpoints of plan, reach, act, convert, and engage.
We've got marketing training and tools to help you plan, manage, and optimize your marketing strategy, so you can win more customers and accelerate your ROI.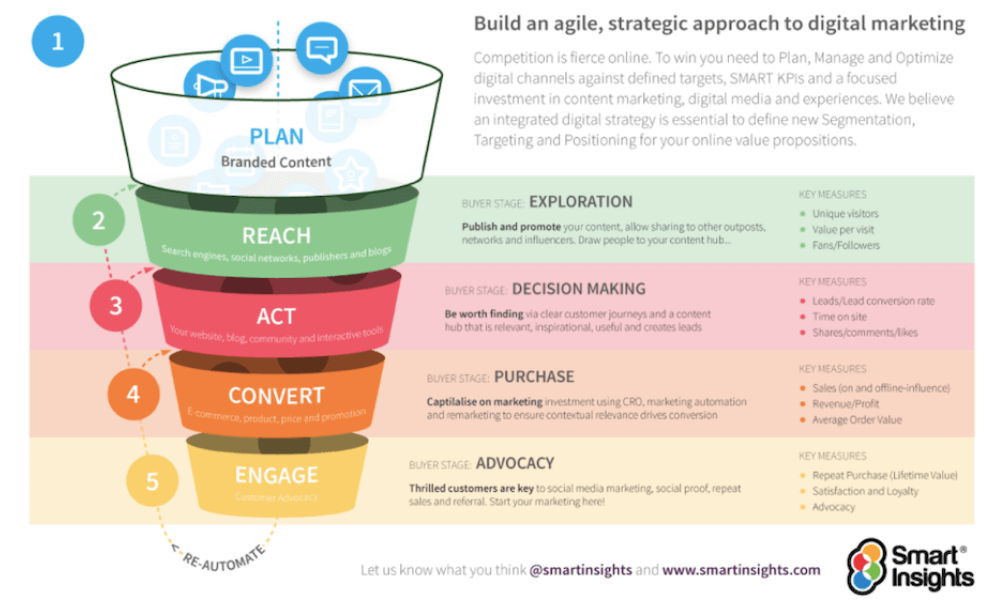 How to market a manufacturing company by implementing content marketing strategies
According to the Content Marketing Institute's benchmarking budgets and trends 2021 report, 76% of manufacturing content marketers believe their company will invest in content creation during 2021.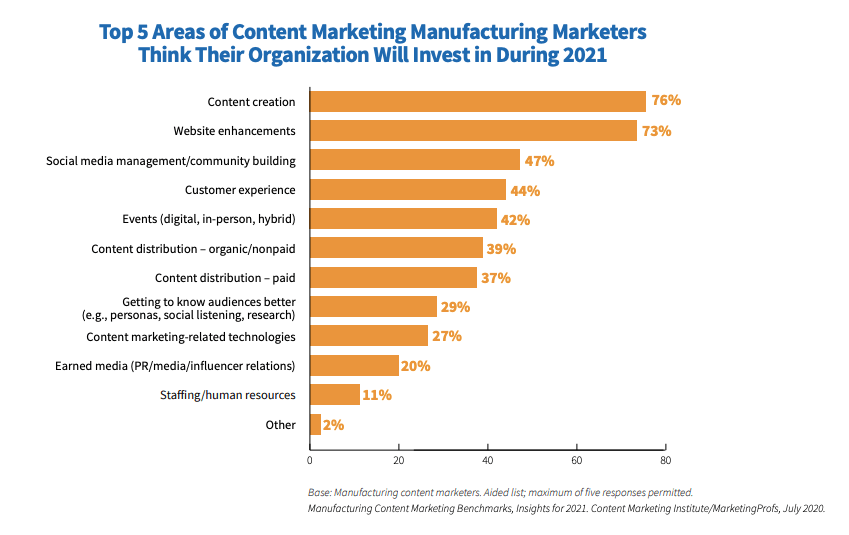 Content marketing is an important strategy for many B2B and B2C companies, and it is certainly a big factor in the marketing of manufacturing goods. But how does your content marketing compare?
Smart Insights members are utilizing our digital benchmarking tools to measure and compare their key marketing activities, including content marketing. Whether your marketing is in its initial or optimized stage, we've got marketing tools and templates to support you in overcoming weaknesses and identifying new opportunities for your manufacturing content marketing strategy.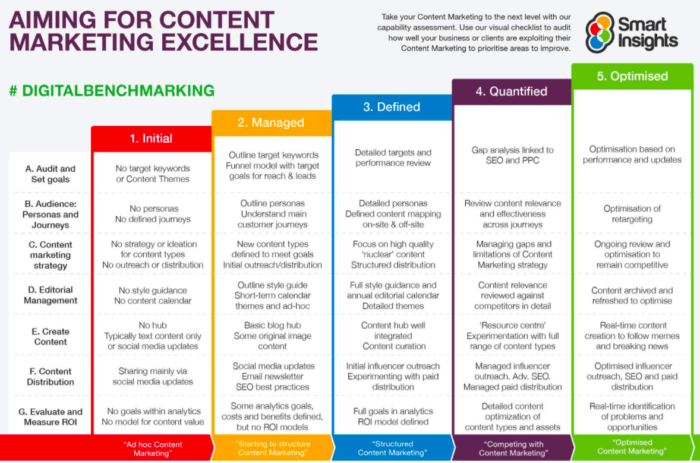 Benchmarking your content marketing across the RACE Framework
From 'managed' content marketing onwards, we recommend utilizing a funnel model to track your progress. If you're currently managing your manufacturing company's content marketing, or hope to in the future, why not consider applying the RACE Framework when benchmarking your content marketing activities? In this way, you can relate the goals of these four content types to your overall marketing objectives, as follows:
ToFu (top of funnel content): Reach – Attract visitors and encourage sharing
MoFu (middle of funnel): Act – Prompt interaction and leads
BoFu (bottom of funnel): Convert – Nurture interest leading to conversion to sale
RoFu (retention of funnel): Engage – Retain existing customers through engaging them
A successful content marketing strategy for manufacturing must contain content dedicated to your objectives integrated across the RACE Framework of reach, act, convert, and engage. Our Content Marketing Learning Path will guide you through our tried and tested content marketing templates, to nurture your customers during their path to purchase and increase your profits.
How to market a manufacturing company by implementing CX strategies
As marketing technology ability and customer expectations continue to develop, it's crucial for manufacturing marketers to keep their customers' experiences of their company at the forefront of all strategy and planning decisions. In fact, McKinsey recommends businesses undergo a customer experience (CX) transformation via the diagnose, design, deliver process.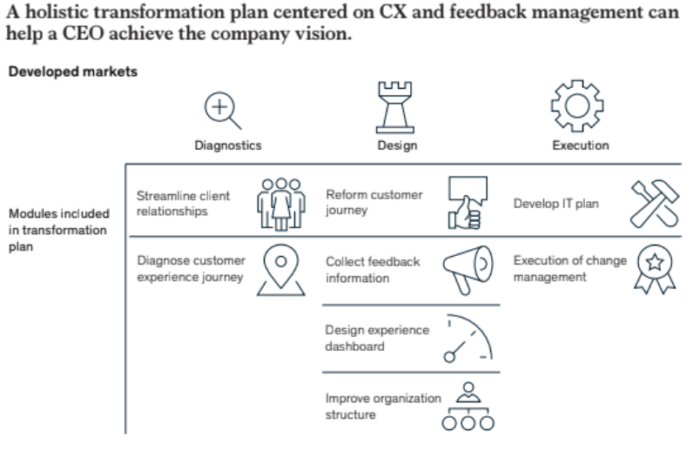 In this way, the diagnose and design stages are very similar to our 'plan' in the 5-step RACE Framework. Of course, you must diagnose your customer experience journey first, using tools and templates such as our RACE lifecycle. Thousands of marketers around the world are utilizing our RACE Framework to streamline their marketing strategy. The focus on using data and customer journey tracking make this framework the perfect marketing solution for manufacturing leaders today.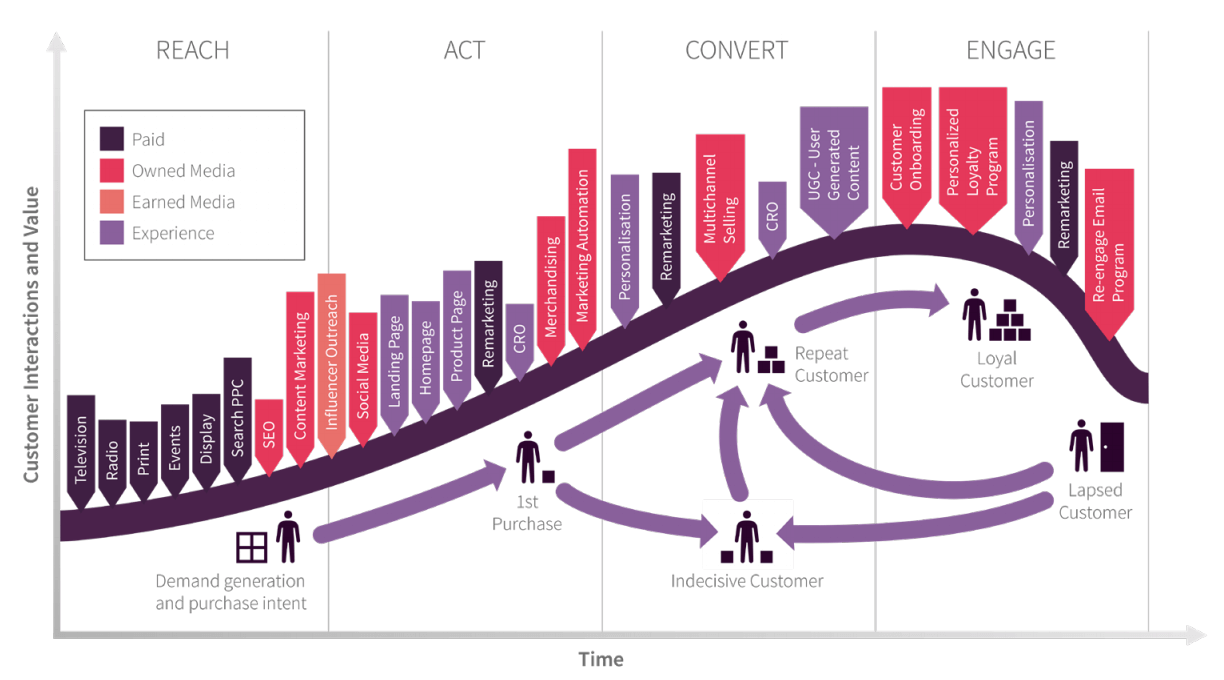 We've got marketing solutions to help you understand and delight your customers. For example, our customer journey channel coverage map helps you map your customers' journeys by channel. This popular template is available in full in our Digital Experience Learning Path, dedicated to adding value to your customers' digital experiences, profitably.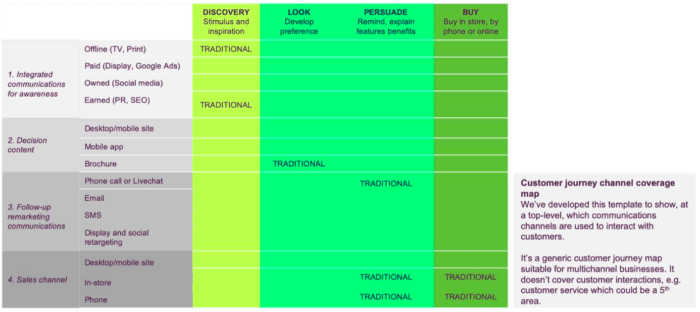 Or, if you're looking to improve the effectiveness of your content marketing at a particular stage identified in your customer journey, our persona/lifecycle stage template, also from the Digital Experience Learning Path, will help guide a more efficient content creation process with your in-house designer or design agency.
In this example, Jimmy the Gymn Owner will pass through the awareness and consideration stages before making his final decision. During this journey ebooks, infographics, spreadsheets, and PowerPoint will support the customer lifecycle.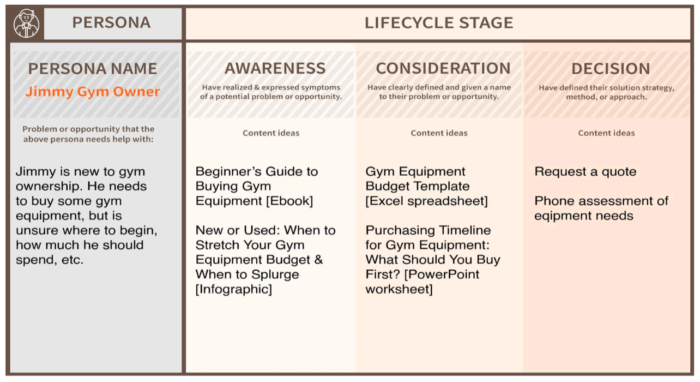 Of course, content marketing and CX are just 2 elements of how to market a manufacturing company. That's why our Business Members can access 10 Learning Paths, covering all aspects of strategy, planning, and channel management. What's more, all our Learning Paths, tools, and templates are fully integrated across the RACE Framework, so you can be confident that you are building a unified marketing strategy that works for you. Get started today.